Have I got a Wasp Nest?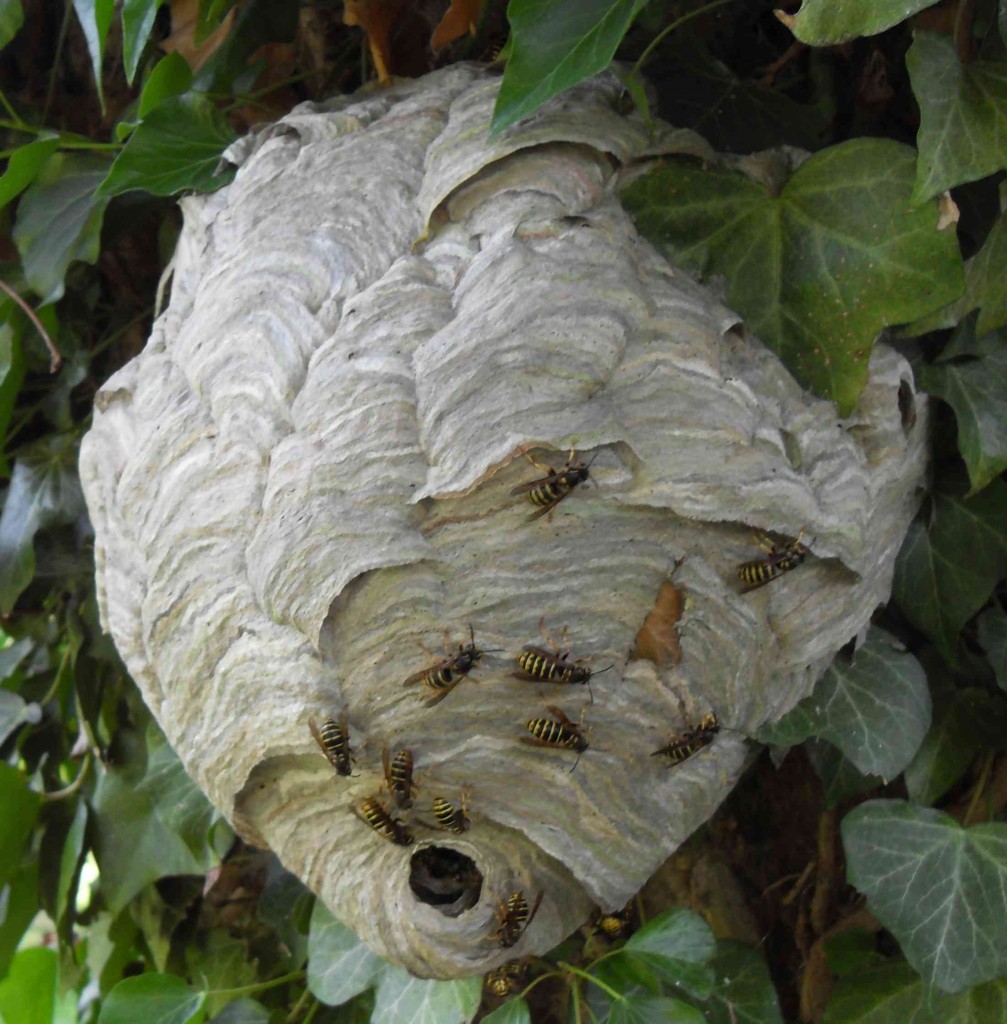 Do you have a wasp nest in the garden or indoors? Need removal like yesterday? Call the experts. Norfolk & Norwich Pest Control can control your wasp nest quickly and effectively. Because we are local experts we can keep our prices low and guarantee wasps or hornets nests are exterminated every time. As we are one of Norfolk's top wasp nest control businesses, we virtually have 100% success rate. We operate seven days a week and have bookings available with convenient time slots. Call us for free advice and a quote and see how much you can save.
Call us on 01603 905530
for a fixed price – or just advice – 7.00 a.m. to 9.00 p.m. – weekends too!
Our best advice. Never pay over the odds for a wasp nest treatment. There's generally only two chemicals that can be used by all pest controllers, including the branded national companies to control wasp nests. These chemicals are powders that are applied under pressure. The chemicals are called bendiocarb and permethrin. They are controlled substances and cannot be bought over the internet. They are for professional use only and you must be trained to use them. In the wrong hands you can easily poison animals or fish. Best to leave it to the experts to avoid unnecessary stings!
Careful where you shop – not just for pest control. Always look for an address on the operator's website for wasp nest removal. Some pest control companies pretend to be from Norfolk but are actually sales  lead provider businesses based out of the area, so you may have no come back if things go wrong or the operator doesn't turn up. If there's no address or you're suspicious don't call them.  Never pay before the work is carried out. Your number may be blocked by them with new mobile phone technology. You'll kick yourself afterwards! Also beware of traders that are not registered and fly-post cheap wasp nest removal, usually with just a mobile number. Gardeners and cleaners may also not be insured or trained.
Who our customers are. Perhaps our most prestigious customer is Norwich Cathedral. We are contractors to many letting agencies across Norfolk such as Abbotts Lettings, WH Brown, Pure Lettings etc. We also eradicate wasps for many Norfolk businesses and homes. Our service is covered by a full money-back guarantee or re-treatment. The choice is yours.
Our long opening hours Call 01603 905530 or on Free-phone 0800 955 3650 seven days a week from 7.00 a.m. to 9.00 in the evening. You can therefore call us in the evening to book us in for the next day. Do bear with us though, as sometimes demand can peak all at once! The phone is especially busy when it's hot and sunny.
Please note: it is important that you do not go near a live wasp nest – wasps are unpredictable (even for us) and can swarm very easily and sting. They can be dangerous, so it is important that you leave it to the experts to carry out wasp nest removal.

If wasps feel threatened, there is a high risk they will swarm and sting you, your children, pets, horses etc. so for your safety please call Norfolk & Norwich Pest Control on: 01603 905530 for immediate advice for your home or business. Wasp nests in loft spaces, such as the one shown above, are the most dangerous to encounter.

YouTube video above: We had a pest control call out for a really spooky event. An elderly home owner in Norwich, Norfolk, UK had shut the door to the kitchen lobby because there was a loud humming noise coming from the ceiling. Home owner, Brenda said "It sounded like the whole ceiling was going to take off. My husband wasn't much help as he was scared too"
She then  called local wasp control specialists Norfolk & Norwich Pest Control. An assessment was carried out and quickly revealed it was a freak of nature. "A wasp nest had formed in the ceiling above, and due to lack of space to expand inside, the nest had expanded and continued to grow in size indoors above the fridge unit. "The noise was immense and not for the squeamish", commented Richard of Norfolk & Norwich Pest Control. "It was a hot day and the wasps were fanning the nest to keep it cool. The noise was amplified by the ceiling that acted like a loud speaker". The nest was carefully removed and made safe. All that was left was a hole in the ceiling where the removal had taken place!
About Wasps: God created the bee  and the devil the wasp, so the saying goes.  Wasps can be very annoying especially in and around food or drink in the summer time. Wasps start to construct their nest from late April in any crack or crevice as long as there's a void behind it. Favourite wasp nest areas include the eaves of your house, the loft space, a shed or garage,  in a garden wall, tree, bush – even on a boat moored over winter on the Norfolk Broads!
At the start of the wasp season there are only queen wasps. The queen was mated the year before and makes her nest which is the size of a ping-pong ball, hung from a ceiling.  There, she lays her first clutch of eggs. Hungry from her winter hibernation, she feeds from early pollen and nectar if she's timed it right, with no heavy rain or frosts. The eggs hatch and new worker wasps (sterile females) do the job of  building up the nest. The queen lays more eggs throughout the wasp nest season. Wasps will continue to build their nest throughout the summer months and they can reach to several thousand in a single nest. Wasp nests can continue even up to December (although it's unusual).
Unsure if you have wasps or bees? Call Norfolk & Norwich Pest Control for free advice and technical information to confirm if you need a wasp nest removal technician – there's no obligation for us to come out to you. Bumble bees are best left alone, but if you really don't want them there we are usually able to humanely remove and re-site them. We have successfully relocated them in the past, but there is always a risk the nest may not survive. Bees in birds nest boxes are the favourite to re-site. They usually end up in my garden and seem happy enough.
Remember, all bees and wasps are good pollinators and we need them all. Wasps are also good for the garden as they clear millions of gnats and other insects over the summer, although unfortunately they do remove other beneficial insects such as moths, butterfly larvae and even small frogs. Wasps are very protective and will do their utmost to protect the queen and the nest. Unlike bees, wasps will often sting for apparently no reason.
It's never a good idea to ask anyone to kill bumble bees or honey bees unless it's absolutely essential and a risk to health. You can call us for free advice. Find out how we can help you now on what to do if you think you may have these.